The house is built in a U-shape and was originally three dwellings which
have been turned into one and been put on the same title deed. Part of it
was originally the village shoemakers, hence the name of "Cobblers".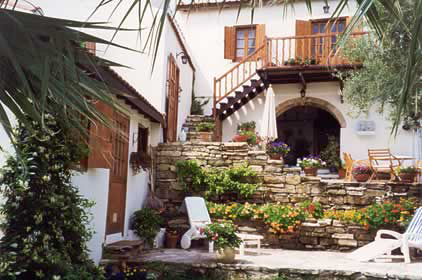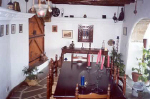 Click all pictures to enlarge

The house comprises three bedrooms, two bathrooms, one en-suite, a
kitchen/breakfast room, the entrance hall, which doubles as the main dining
room, an office and a double sitting room separated by an arch. All are
built around a central courtyard and everything is on different levels. with
steps, terraces, lawn and gardens. The garden is stocked with seasonal
flowers and has a large palm tree, frangipani and a medium sized rubber
tree. Its main feature is an olive tree which is harvested each December
for oil.

Entrance Hall: 6.10 x 3.5 m. Entered from the street by double doors
through two stone arches to the courtyard. Exposed beams, woven bamboo
ceiling.
Sitting Room: 11.75 x 3.00 m (average width). This upstairs sitting room
is reached by stone steps and wooden verandah. It has three double doors,
one leading to a small decorative verandah at the front of the house.
Having four other windows, it is a very light and airy room. It is
separated into two sections by an arch. One part with a woodburner stove.
Cherry wood floors throughout. Telephone and TV points. 2 ceiling fans.
Exposed beams with split bamboo ceiling.

Kitchen: 7.3 x 3.35 m. Divided by a suspended lighting unit and breakfast
bar separating breakfast room from cooking area. Limed oak units, Neff
double oven, Gas hob and Extractor. Provision for dishwasher. Stone floor.
Two ceiling fans. Telephone point. Exposed beams with split bamboo ceiling.

Office: 5.00 x 2.7 m. Two telephone points with separate lines. Stone
floor. Wall niches. Ceiling fan. Ceiling as above.

Bedroom 1: 7.20 x 3.30 m, including walk-in closet of 1.8 x 2.3 m. Double
doors lead to garden, two further windows. Cherry wood floor. Ceiling fan.
Exposed beams and plaster ceiling. Split unit AC/heating.
Bedroom 2: 5.6 x 3.3 m. Double doors to terrace and garden. Features
original stone wall with deep ledge. Carpeted. Telephone Point. Ceiling
fan. Ceiling as Bedroom 1.
Bathroom 1: 1.9 x 3.00 m. Situated between above bedrooms.
Bedroom 3: 4.00 x 3.4 m. self contained, across courtyard from other
bedrooms with en-suite shower room 1.55 x 1.9 m with lavatory and handwash
basin. Small utility room 1.4 x 1.6 m. Carpeted above stone floors.
Garden: 18.9 x 9.4 m. With central lawn 9.65 x 7.00 m. Garden shed and
storage sheds. Kleftiko oven.

There are solar panels for water heating together with water storage tank
on the flat roof above the two man bedrooms. The other three roofs are
tiled. Outside is a carport for two vehicles.

Vacant:One month after completion of purchase. Recently re-decorated inside and
outside.