It is a six year old detached 4 bedroom split level bungalow style with a garden in a residential area of Larnaca with a part flat roof , ready for expansion to another floor on part of the top. It is built in a whole Ikopeda (plot) and so in theory has a building plot as a garden in which you could build another house if you wanted to.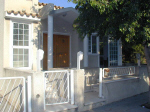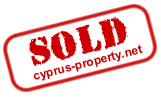 Click all pictures to enlarge

The easy to work kitchen with plenty of storage space and dining room are open plan.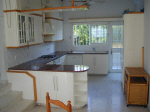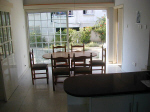 Large sitting room. The house is plumbed for central heating but this has not yet been installed.
The bedrooms are all off a hallway, there is a bathroom with corner bath/shower, vanity sink and W.C. There is also a separate cloakroom near the front door.
The house has a walkway around both sides there is a built in BBQ and a garden shed in the back yard. There is a driveway which leads to covered parking connected to the house.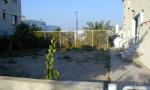 Measurements
Living room 5m x 6m
Kitchen / Dining room 3 m x 6.5m
Cloakroom 1.3m x 2.3m
Bedroom 1 3.6m x 2.8m
Bedroom 2 3.4m x 3m
Bedroom 3 2.9m x 3m
Bathroom 2 2.21m x 1.6m
Bedroom 4 4.7m x 3.9m Basement with kitchenette 2.3 x 3m
Bathroom downstairs 1.2m x 2.5m

This is a pleasant home in a good area on the outskirts of Larnaca, not too far from the beach. The airport is conveniently located about 7 mins drive away.