It is a detached two storey villa, comprising of a large impressive entrance with spacious living areas.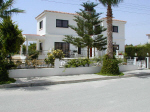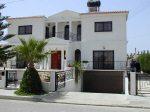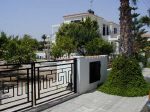 Click all pictures to enlarge

The living quarters are open plan. A large sitting room and a formal dining room set around the impressive galleried entrance hall, with designed marble floors and quality fittings.
There is a comfortable kitchen and living area, with an extra kitchenette which can be used as a laundry area.
The staircase rises to a galleried landing around which are 3 bedrooms, all with fitted wardrobes and hidden entrances to the private en-suite facilities.
Bedrooms 1 & 2 are joined externally by a wide balcony.
There is also a large veranda upstairs measuring 4m x 4m which could be converted into a large 4th bedroom if needed.
The plot the house stands on is very large by other villa standards in the area and has large grounds around the house (plenty big enough to erect a swimming pool) There is a barbecue area with a Cyprus village oven, fountain and large double wrought iron gates.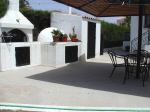 There is also a garage in the basement with an internal staircase to the ground floor of the house. The drive has enough parking space for 3 more cars if required.
Measurements
Living room/dining room/TV room 13m x 11m
Kitchen 9 m x 4m
Kitchenette 3.3m x 2.3m
Bedroom 1 4.5m x 4m - bathroom 1.5m x 1.8m
Bedroom 2 3.6m x 4.4m - bathroom 1.1m x 2.1m
Bedroom 3 4.2m x 4.3m - bathroom 2.7m x 2.1m
Garage 7.5m x 4.5m
This is a pleasant home in a nice area on the outskirts of Larnaca, not far from the beach. The airport is conveniently located about 15 mins drive away.

There are title deeds available immediately on this house.
The price includes all fixtures, fitting and furniture.