5 bedroom villa in Pyrgos, Cyprus.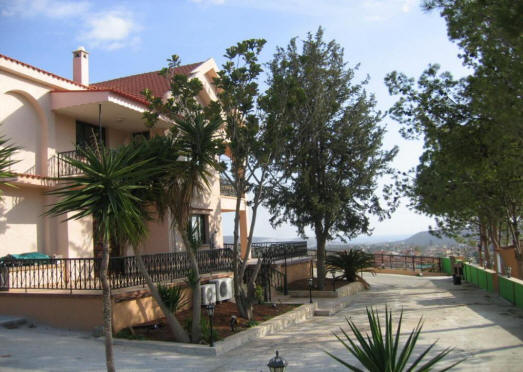 THIS 5 BEDROOM HOUSE IS LOCATED ON THE OUT SKIRTS OF PYRGOS VILLAGE. IT'S SIT'S ON A FAIRLY LARGE PLOT OF 1630Sqm. THE PLOT IS ON IT'S OWN ACCORD UNIQUE IN IT'S POSITION. SITS ON AN ELEVATED SPOT
OVERLOOKING THE WHOLE VILLAGE WITH A 360 DEGREES VIEW OF THE WHOLE SURROUNDING AREA, AS WELL AS SOME SEA VIEW. PRIVATE ROAD WITH 6 MORE HOUSES BEING BUILD BENEATH THE VILLA.
5 DOUBLE BEDROOMS
MASTER BEDROOM 32Sqm WITH ENSUITE + 13Sqm
COVERED VERANDA
2)BEDROOM 43Sqm
3)BEDROOM 28Sqm
4)BEDROOM 28Sqm+9Sqm VERANDA
5)BEDROOM 15Sqm +9Sqm VERANDA.
6)MASTER BATHROOM 13Sqm.
INSIDE COVERED AREA 420Sqm.

1)HAS IRRIGATION WATER PRESSURE SYSTEM
2)WATER HEATING SYSTEM (INSTANT;GAS OPERATED)
3)ALSO SOLAR; WATER HEATING.
4)JACUZZI WITH DESIGNER TOILET.
5)FIRE PLACE
6)GUESS TOILET.
7)UTILITY ROOM WITH SHOWER.
8)DESIGNER'S KITCHEN.
9)TWO STORAGE ROOMS.

TOP QUALITY EXPENSIVE ITALIAN GRANITE TILES.
TOP QUALITY GROHE OF GERMANY SANITARY WARE GROHE

OUTSIDE
1)HAS A BORE HOLE ;CAN PRODUCE UP TO 5-8 TONS OF WATER PER HOUR; IT RUNS ON 3 PHASE ELECTRICITY;600 FEET DEPTH.
2)AUTOMATED SLIDING GATE.
3)AUTOMATIC SENSOR LIGHTS; WORK ONLY IN THE DARK.
4)AUTO WATERING SYSTEM ; TOUCH OF A BUTTON WITH ADJUSTABLE TIME SWITCH.
5)DRAINAGE SYSTEM ALL AROUND THE GARDEN
Click the pictures to enlarge

Price Euros 1,420,000.
Further details on request.
Please contact us here if you wish to enquire further
or if you have something similar to sell.

If you have a hotmail, or web based account, this link above will not work, you will need to send us an e mail directly from your account to info at cyprus-property.net stating which property you are interested in.
Back To Property For Sale List Home
[ Cyprus Property Advertising ] [ Property Sold ] [ Cyprus property links section ] [ Property for sale in Cyprus ] [ Reduced price - special offers - quick sale. ] [ Property buyers guide for Cyprus ] [ Renovations ] [ Commercial & Business ] [ Rentals in Cyprus ] [ Currency Convertor ]