2 bedroom terraced houses in Paralimni, Cyprus.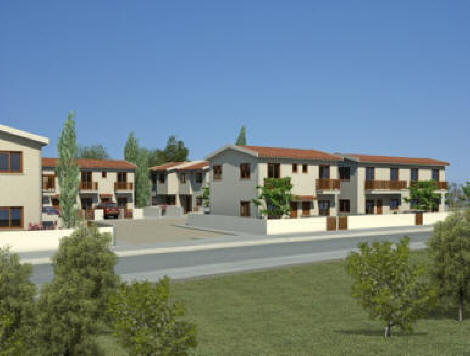 This complex of 2bedroom terraced houses is located in a quiet residential area of Paralimni close to all amenities. A continuation of the very successful concept of Anemomylos but without the swimming pool.
It is Ideal for retirement, extended holidays, or investment purposes. A complex of two bedroom terrace houses with private yards. Designed and build with special care. Offered with A/c, kitchen units and furniture as optional extras.
Internal area 82 sqm
Click the pictures to enlarge

Price from Euro 161,000
Further details on request.
Please contact us here if you wish to enquire further
or if you have something similar to sell.

If you have a hotmail, or web based account, this link above will not work, you will need to send us an e mail directly from your account to info at cyprus-property.net stating which property you are interested in.
Back To Property For Sale List Home
[ Cyprus Property Advertising ] [ Property Sold ] [ Cyprus property links section ] [ Property for sale in Cyprus ] [ Reduced price - special offers - quick sale. ] [ Property buyers guide for Cyprus ] [ Renovations ] [ Commercial & Business ] [ Rentals in Cyprus ] [ Currency Convertor ]